Hilo's Lyman Museum Debuts Hall of Fame Exhibits
On Display: East Hawai`i Honorees Ray Kinney & Haili Church Choir
Reported by Marjorie Scott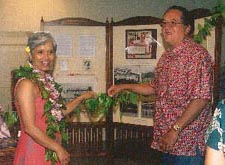 Lyndell Lindsey
and
Rayner Kinney
open the Hall of Fame exhibit space at Hilo's Lyman Museum on March 16. Click
here
for more Lyman debut photos.
Sunday, March 16, marked the presentation of two Hall of Fame koa exhibits in a memorable event. (Sunday was chosen because the museum is closed to the public that day.)
One of the 3-frame, 6-panel exhibits displays the history and photos of the Haili Church Choir (inducted in 2001) on one side; Genoa Keawe on the other. Biographies and memorable photos of the 2002 Hall of Fame honorees, Ray Kinney and Gabby Pahinui are displayed in the second exhibit.
It was a clear, warm, sunny afternoon with a nice breeze when festively dressed invited guests arrived for the debut of the exhibits in their spacious and spotlighted second floor corner. Many members of Ray Kinney's family came down from Waimea; Teela Hailele, one of Ray Kinney's original "Aloha Maids" dancers was among them.
Close to 25 Haili Church Choir members arrived to view their exhibit which many of them missed seeing at their Hawai`i Theatre induction ceremony, and to present a program of sacred and contemporary songs for the event led by their Director Lyndell Lindsey. For choir member, Maria Smith, the Choir exhibit was special. She discovered both her great grandmother and her great grandfather in one of the historic photos in the display.
After Kahu Kahalehili gave a Blessing and presented a special prayer, Dolly Strazar, Executive Director of Lyman Museum welcomed the guests, and Marjorie Scott, a Hall of Fame Director, thanked Dolly and the Museum staff for their efforts in arranging this debut. The maile lei "rope" across the exhibit area was untied, officially opening the exhibit.
Under the high ceiling of the museum exhibit area, the rich sound of The Haili Choir singing was both thrilling and inspiring to hear; Hauwea Wai`au's solo "How Great Thou Art" transported us. "We were relaxed and happy to be singing there (at Lyman)", she said.
"Aloha Maid" Teela Hailele dancing to a recording of Ray Kinney singing "Lovely Hula Hands", brought back many memories of the past times. Raylani Akau, Ray Kinney's daughter, generously brought Ray Kinney's `ukulele to be displayed and a scrapbook of his life for guests to view.
After the program, many hugs and warm "aloha"s were exchanged among the roomful of attendees. Homemade "goodies" and punch awaited us just outside the museum, enjoyed over lingering talk story. It was truly a very special Hilo Hawaiian music gathering of friends in honor of two of their most celebrated and historic Hawaiian music treasures.
If you have not visited Lyman Museum, do. This modern building is the only museum of its kind in Hawai`i, housing both unique interactive 3-dimensional natural history displays and artifacts, implements and costumes from East Hawai`i's history.
We have Dolly Strazar to thank for inviting the Hall of Fame to exhibit at Lyman Museum. A generous Lyman Museum donation enabled us to have special padded permanent cases and crates made to ship the Hall of Fame exhibits to Hilo. Mahalos belong to the museum's Lynn Wolforth, who is in charge of special exhibits and museum events. She arranged this event and enlisted the staff volunteers who helped to unpack and erect the exhibits. Kudos also go to Kalani, Production Supervisor at Martin & MacArthur for designing and building "user friendly" protection for our exhibits. (We should have such comfort to travel in!)

Hawaiian Music Hall of Fame
P.O. Box 4717, Honolulu, HI 96812-4717
Phone: (808) 372-8921
Fax: (808) 596-8680