Lyman Museum Debut Pictures
[From the Spring 2003 issue of Ho`oha`i, the Hawaiian Music Hall of Fame quarterly publication]
Mahalo Dolly Strazar!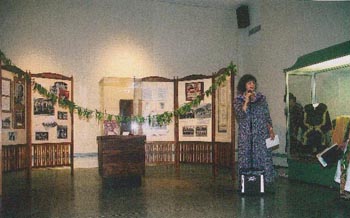 We have Dolly Strazar to thank for inviting the Hall of Fame to exhibit at Lyman Museum. A generous Lyman Museum donation enabled us to have special padded permanent cases and crates made to ship the exhibits to Hilo. Mahalos belong to the museum's Lynn Wolforth, who is in charge of special exhibits and museum events. She arranged this event and enlisted the staff volunteers who helped to unpack and erect the exhibits. Kudos also go to Kalani, Production Supervisor at Martin & MacArthur for designing and building "user-friendly" protection for our exhibits. (We should have such comfort to travel in!)
| | |
| --- | --- |
| Teela Hailele | |
| | Original "Aloha Maid," Teela Hailele, dances. |
More from the Lyman Museum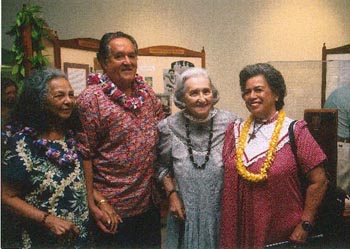 (left to right) Leilani and Rayner Kinney; Hazel Dukelow, daughter of Ray Kinney's brother David; and Hauwea Waia`u.
Haili Church Choir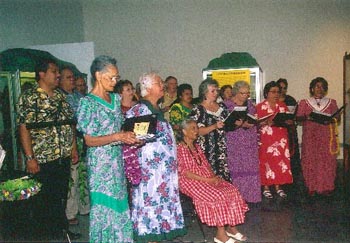 The Haili Church Choir (all Lyman photos courtesy of the Lyman Museum).

Hawaiian Music Foundation
P.O. Box 4717, Honolulu, HI 96812-4717
Phone/Fax: (808) 372-8921