Kahauanu Lake Trio Classics Reissued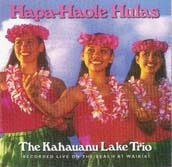 "Hapa Haole Hulas" CD
Three cheers and 1,000 points to Hula Records for digitizing the 1970s recordings of The Kahauanu Lake Trio. "Hapa Haole Hulas" is the latest. It was originally recorded live on the beach at Waikiki.
While you can still watch a dancer perform "Maile Lei" and "Hula Lolo" with various groups, "K" Lake's instrumental and vocal arrangements, falsetto, and `ukulele stylings, give the songs the unique signature sound for which the Trio was noted.
There are 15 English lyric Hawaiian standards on this CD. The beautiful " Love Song of Kalua" as the Trio does it will linger in your head for days. R. Alex Anderson & Milton Beamer's "Blue Lei" will bring back memories of the "Golden Era" of Hawaiian music, as will many other songs on this CD.
Three other CDs of the early Lake Trio recordings contain liner notes of both Hawaiian words and their English meanings. Try any music store in Hawai`i, or Hula Records directly: 99-139 Waiua Way #56, Aiea, HI 96701-3285 ; (808) 485-9424.
Hawaiian Music Hall of Fame
P.O. Box 4717, Honolulu, HI 96812-4717
Phone: (808) 372-8921
Fax: (808) 596-8680