First Recording From the Kahauanu Lake Singers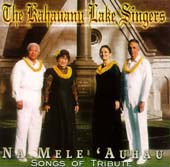 "Na Mele `Auhau Songs of Tribute" is a CD to treasure. No need anymore to miss the beautiful compositions of Kahauanu Lake and the richness of his vocal and instrumental arrangements. They're all right here in this recently released CD from Hula Records.
The singers Arthur "Atai" Akina, Vernamae Gomez Perkins (both cousins of Uncle "K"), Luana Pugmire Kawai`ae`a and her husband Walter Kawai`ae`a present a vocal sound remarkably close to the original Kahauanu Lake Trio.
Their beautiful harmonies are, of course, underscored by Kahauanu Lake's "unique chord modulations and trademark `ukulele strums" as the liner notes describe it. Add the instrumental backing of Arthur Akina (guitar), Anuhea Brown (piano), Walter Kawai`ae`a ('ukulele) and Tommy Lake (acoustic bass) and you have a "keeper".
However this collection is not a "clone" of previous recordings. Instead, six of the twelve songs of tribute arranged by Kahauanu Lake are his own compositions; for two more, he wrote the music, Mary Kawena Puku`i wrote the lyrics.
"Liner Notes" is a misnomer. The "notes" are actually a small booklet with the story of each song and the person to whom it is dedicated. Good news also are the complete lyrics in both Hawaiian and English for the songs.
You get the "full monte" here of traditional Hawaiian songs from a master of the genre. If you haven't acquired this CD yet, contact Alan Yoshioka at Harry's Music (Kaimuki) for price, and shipping if you're off island. Phone: 808-735-2866; address: 3457 Waialae Av., Honolulu, HI 96816.
Oh - watch for more from members of the Pualelani Chorus, also on this recording.

Hawaiian Music Hall of Fame
P.O. Box 4717, Honolulu, HI 96812-4717
Phone: (808) 372-8921
Fax: (808) 596-8680