Hall of Fame Exhibits Welcomed at WCC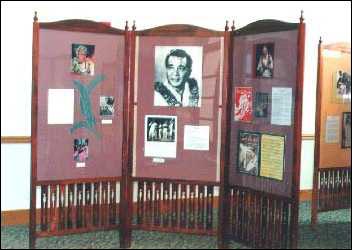 Auntie Irmgard Aluli, Alfred Apaka and R. Alex Anderson are among the 15 Hall of Fame inductees on exhibit.
Four of the Hall of Fame koa exhibits now stand in the bright and spacious lobby of the brand new Paliku Theatre on the University of Hawai`i Windward Community College campus off Kahikili Hwy. in Kane`ohe. We are there for as long as we choose at the invitation of theater manager, Tom Holowach, and with the blessing of WCC Provost, Angela Meixell, and Development Director Paulette Stone.
Holowach says he views his job as going far beyond just theatre management. He envisions a future for WCC as a center for music instruction. "My goal for Paliku Theatre is to have it known for its music performances." He considers the Hall of Fame to be the major exhibit contribution to this goal.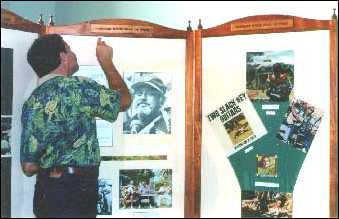 Tom Holowach gives Gabby's display some cosmetic touchup.
The first public visitors to our exhibits were the students and instructors in the July `Ukulele workshops, held in the college's brand new Arts and Humanities building which is connected by a hallway to the theatre. PBS filmed the final `ukulele concert presented by the instructors for an upcomng Na Mele segment.
After viewing the Windward Center for the Arts, set against the peaks of the Ko`olaus, Royal Hawaiian Band Master, Aaron Mahi said "there's no place like this." Kahauanu Lake, on visiting the 300 seat Paliku, said "this is probably the nicest theater I've ever seen in Hawai`i. It's got everything - perfect acoustics, audio and visual."
We are delighted, and hope our members will be too, to have our Hall of Fame Hawaiian music history the lobby centerpiece of what is touted, by its chief architect, to be "the first theater of its kind in the state." Only a few blocks from the Likelike, on Kea`ahala Rd, off Kahikili Highway, the WCC campus and its new building complex is less than 25 minutes from downtown Honolulu.
If you wish to view the exhibits in their grand new exhibit space, call Tom Holowach for a theater tour any weekday. His cell phone is 226-2271. By email, you can reach him at [email protected]

Hawaiian Music Hall of Fame
P.O. Box 4717, Honolulu, HI 96812-4717
Phone: (808) 372-8921
Fax: (808) 596-8680