"Hawaiian Music Foundation"
Our New Corporate Name Starting January 1, 2003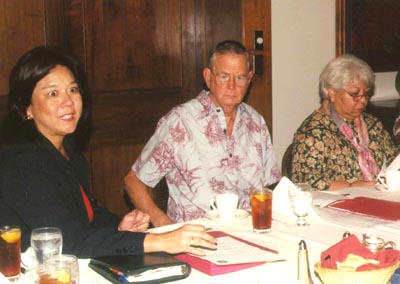 Patti M. Look, Development Consultant, presents action plan at a Board meeting. Directors Dick Rodby and Nola Nahulu listen.
With the full approval of the Board of Directors, we will begin using our new corporate name, HAWAIIAN MUSIC FOUNDATION as of January 1, 2003. Nothing else changes; the governing Board of Directors and the Mission remain the same.
The corporation continues in its non-profit status in the State of Hawai`i, and as a federally registered tax-exempt educational membership corporation. Hall of Fame exhibits and induction ceremonies, E Mele Kakou elementary school music education program, and annual public concerts continue unchanged as permanent programs of Hawaiian Music Foundation.
"We adopted the new name to permit implementing a broader base of Hawaiian music history activity", stated President Joseph K.K.H. Paikai in making the new name announcement at this fall's Annual Meeting of the membership.
The original Hawaiian Music Foundation, which fell into disuse some years ago, was founded in 1971 by the late George Kanahele. Its stated mission was "to perpetuate, develop and promote Hawaiian music."
In the article which appears in Kanahele's "Hawaiian Music and Musicians", he wrote "organized effort is necessary in preserving the integrity of cultural traditions that are constantly subject to external influences." Hawaiian Music Hall of Fame and Museum fills the void left vacant from the cessation of Hawaiian Music Foundation activities.
"We are fortunate that the Foundation name was available for the Hall of Fame to register," President Paikai noted. "Our programs to preserve, perpetuate and promote traditional Hawaiian music have grown long roots in the community since our formation in 1994." Program expansion plans are underway.

Hawaiian Music Hall of Fame
P.O. Box 4717, Honolulu, HI 96812-4717
Phone: (808) 372-8921
Fax: (808) 596-8680