HMHF Welcomes New Director, James Stone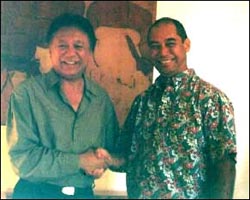 President Joe Paikai welcomes fellow Kamehameha grad James Stone to the Board of Directors
Hall of Fame Directors welcomed James Mauliola Keaka Stone, Jr. to the corporate governing board at its July meeting. Appointed to replace Michael "Buddy" McGuire, who resigned for personal reasons, Stone will serve by appointment until 2005, when he may be officially elected as a director for additional terms, by the membership.
James Stone, a partner in the Honolulu law firm Pitluck Kido Sato & Stone, grew up in Hilo and Kailua. A graduate of Kamahameha Schools, class of 1974, Stone attended UH Manoa, majoring in Hawaiian Studies and Political Science. After receiving his B.A. degree, he served as a Legislative Aide to then Congressman Daniel K. Akaka in Washington D.C. On his return to Hawai`i, he attended the William S. Richardson School of Law and served as president of the Hawaiian law student organization, "Ahahui `O Hawai`i."
Stone has been a performing Hawaiian musician and dancer for over thirty years. His deep appreciation for his Hawaiian heritage developed while at KSBE where he was trained by Nona Beamer and performed as a member of the Kamehameha Hawaiian Ensemble. Since then he has performed professionally as an instrumental musician and dancer and led several Hawaiian bands. Currently he is leader of the Hawaiian trio "Na Hihimanu."
When asked if he would be willing to serve as a Hall of Fame Director, James Stone reportedly replied "how could I say 'no!'" We hope members will be as pleased with his appointment as the Directors are.
Hawaiian Music Hall of Fame
P.O. Box 4717, Honolulu, HI 96812-4717
Phone: (808) 372-8921
Fax: (808) 596-8680