"E Mele Kakou" Expands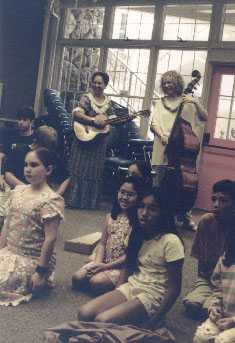 "E Mele Kakou" instructor, Noelani Mahoe (guitar) and Hanahauole School Brenda Strickland (bass) accompany students playing their own composition to one of Mrs. Mahoe's Hawaiian chants.
Hawaiian Music Hall of Fame's in-school education program is in the process of expanding to more schools and a broader educational base. This news comes from a report by Education Chairman, John M. Derby, who is Vice President of HMHF.
In recent meetings of the committee, a collaborative effort has been engaged with the Hawai`i Youth Opera Chorus. HYOC will develop new music curriculum materials that will address the subjects of basic music theory and vocal production techniques.
"The HYOC curriculum will also provide instructional guidance to class room teachers to increase their comfort and effectiveness in presenting these topics in the class room environment", John Derby said. A student workbook and teacher's manual of the new workshop materials will also be produced.
The report stated that choral literature selected for inclusion in this phase of instruction will compliment the music of Na Lani Eha which is taught as part of the E Mele Kakou project. Upper elementary grades are considered the prime target audience for this material, according to Derby. "The curriculum is compatible with the DOE music content standards and learning objectives associated with 4th, 5th and 6th grade classes."
The twelve week program is scheduled to commence on August 16 with an E Mele Kakou Music Festival, followed by a 12 week program with classroom work, and a field trip to the Royal Hawaiian Band. The program will culminate in a school assembly with ice cream and sweets. Foundation support is being sought. The report notes that eligible schools can help defray a portion of the project expenses via application for "Artists In the Schools" funding.
In addition to John Derby, HMHF's education committee members are Linda Colburn, an HMHF Director; Joseph K.K.H. Paikai, HMHF president; David R. Moncrief Past President. Also active are Bob Peters, Principal of Hanahauoli School; Charlotte White, Principal of Ka`iulani Elementary School; Mrs. Francis A.I. ("Mandy") Bowers.

Hawaiian Music Hall of Fame
P.O. Box 4717, Honolulu, HI 96812-4717
Phone: (808) 372-8921
Fax: (808) 596-8680