Hall of Fame Induction Ceremony and Concert
February 20, 2001 - Mark your calendars!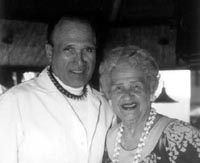 2001 Hall of Fame honoree, Genoa Keawe with her son Gary Aiko. Both will perform in the Hall of Fame February 20 concert at Hawai`i Theatre
As announced earlier in "Ho`oha`i", the Advisory Board has chosen Genoa Keawe and the 176 year-old Haili Church Choir of Hilo, as the 2001 Honorees to be inducted into the Hawaiian Music Hall of Fame. The Induction Ceremony will take place as part of the annual concert event on February 20 at Hawai`i Theatre Center. Doors open at 6 P.M. Concert begins with Ceremony at 6:30 P.M.
The program for the concert, in addition to special guests, includes The Kamehameha Alumni Glee Club, members of the Haili Church Choir of Hilo, and Genoa Keawe performing with Nina Keali`iwahamana, `Iwalani Kahalewai, Mahi Beamer and Gary Aiko. The "Kahauanu Lake Singers", will also perform; the "Kipu`upu`u Dancers" and Kula Abiva with Sissy Lake will dance. Harry B. Soria, Jr. will again emcee the show. Ticket chairman is Kaina Wai`au. As in past years, The Kahauanu Lake Trio Corporation is producing the show for the benefit of the Hawaiian Music Hall of Fame.
Hall of Fame members may purchase Annual Concert tickets from Hawai`i Theatre box office from Tuesday, January 9 through Saturday, January 13. Ticket sales to the general public begin Tuesday, January 16. Tickets can be purchased ONLY from the box office of Hawai`i Theatre Center, on Bethel Street in Honolulu, by phone with a major credit card, or in person. Members can reach the Box Office at (808) 528-0506, starting Tuesday, January 9. The theatre is closed from January 1-9 for renovation.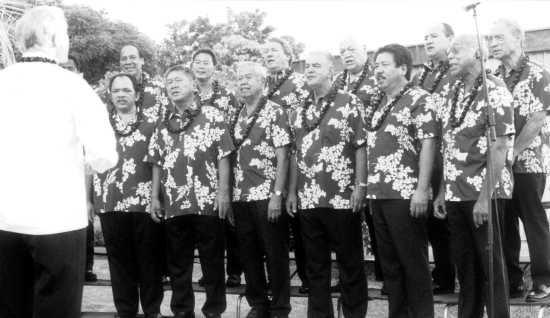 The Kamehameha Alumni Glee Club, performing here at a Bishop Museum concert produced by Kahauanu Lake. The Glee Club will perform at the Hall of Fame February 20 concert.
Ticket prices this year have been reduced to give as many members as possible the opportunity to attend the 2001 Ceremony and concert: $25- first ten Orchestra rows; $20- balance of Orchestra and Parterres; $15- Loges and both balconies. The theatre adds a $2 charge to each ticket for their renovation fund.
Hall of Fame members are urged to purchase tickets early, as this year's Ceremony and Concert are expected to draw a large audience to honor Auntie Genoa and the famous Haili Choir in which so many legendary Hawaiian vocalists sang, over its long history.

Hawaiian Music Hall of Fame
P.O. Box 4717, Honolulu, HI 96812-4717
Phone: (808) 372-8921
Fax: (808) 596-8680