A Great Idea Bears Fruit...
Honoring the Giants of Hawaiian Music
(Based on a Honolulu Advertiser "Island Life" feature story by Bob Krauss on August 19, 1995)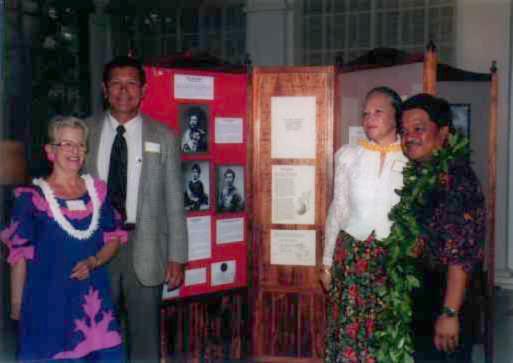 Pictured with 1995 Hall of Fame exhibit at Washington Place reception, (left to right) Marjorie Scott, Dr. Michael Chun, president of Kamehameha Schools, Nalani Olds, Royal Hawaiian Band vocalist, and reception host, Governor Benjamin Cayetano.
A dream that covers two and three-quarters centuries of Hawaiian music will emerge from history with the induction of 10 legends into the newly created Hawaiian Music Hall of Fame.
"We have selected no living persons for the first group", said Marjorie Scott, Founder and presently Secretary-Treasurer, "so this will be a historical event.
The event is a reception at Washington Place on September 6 to unveil a traveling display honoring the greatest name in Hawaiian music, from a pre-contact chanter to stars of the Waikiki night clubs.
After relocating to Hawaii in 1984, Scott soon realized that great Hawaiian musicians of the past have gone unsung. "I was disturbed that there isn't a place where people of Hawaii can come and get acquainted with our musical culture," She explained. To found the organization, she put together a board composed of musicians, businessmen, and historians.
Scott said the unveiling of the traveling display is the first step toward the eventual establishment of a permanent museum, performing center, and library. The display will be available on request to schools, hotels, banks, libraries, shopping malls, and for display in shop windows, Scott said.
Guests at an invitation-only reception at Washington Place on Sept. 6 (see picture above) will be the first to view the display, to which other names will be added through the years.
Note: The 1995 and 1996-1997 Hall of Fame exhibits are currently placed in Hawaiian Hall at Bishop Museum.

Hawaiian Music Hall of Fame
P.O. Box 4717, Honolulu, HI 96812-4717
Phone: (808) 372-8921
Fax: (808) 596-8680