Hall of Fame 10th Anniversary Concert
Na `Ilina (the Recipients)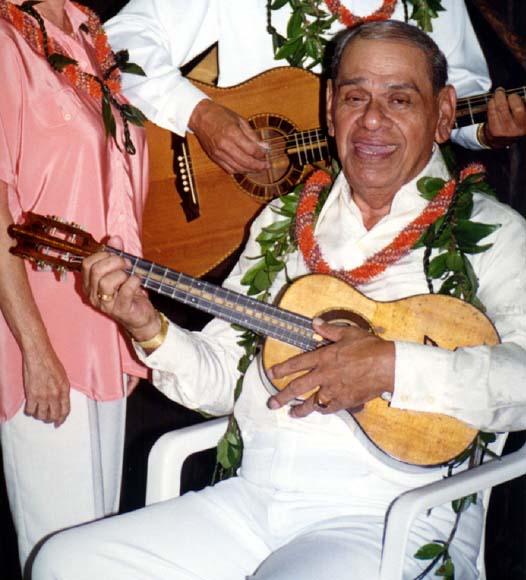 Concert producer and Hall of Fame Honoree, Kahaunu Lake
Tuesday evening, June 7 at the Hawai`i Theatre Center, the Hawaiian Music Hall of Fame celebrates its tenth anniversary with a gala concert featuring the two surviving single inductees and the music of many of the others.
Pa`ahana will welcome the audience, beginning at 7 pm. The lobby will feature panels from the Hall of Fame Museum, as well as CDs, Tshirts, and concert posters for sale.
Genoa Keawe and Kahauanu Lake headline the show, which features Lake's Kahauanu Lake Singers, Auntie Genoa's son Gary Aiko, and a host of all-star groups and featured soloists.
Groups include Kamehameha Alumni Glee Club, plus dancers Na Wahine Kuikawa (Maiki Aiu Lake's alaka`i) and Kipu`upu`u (male halau from Kamehameha Schools).
Other featured performers include Kula Abiva, Mahi Beamer and Gaye Beamer, Ardis Gomes, Randal Hongo, Nina Keali`wahamana, Pi`ilani Smith, Emma Veary, and Hawea Waia`u and son Kaina. Harry B. Soria, Jr. will be Master of Ceremonies.
There will be a post-show "meet the artists" gathering, says Kaina Wai`au, who is producing the show with artistic director Kahauanu Lake. Michael Pili Pang is stage manager.
Tickets are on sale at the Hawai`i Theatre, phone 528-0506, with Visa or MasterCard in addition to checks. Rows A-K are $25; the rest of the house is $20. There is a $2 restoration fee added to each ticket. Native Books and Na Mea Hawai`i at Ward Warehouse offers walk-in ticket sales, cash or check only; phone 596-8885. For additional information, contact the Hawaiian Music Hall of Fame at 739- 9164 or [email protected]. See you there!

Hawaiian Music Hall of Fame
P.O. Box 4717, Honolulu, HI 96812-4717
Phone: (808) 372-8921
Fax: (808) 596-8680