Love to Kanikapila?
...but don't know all the words and chording?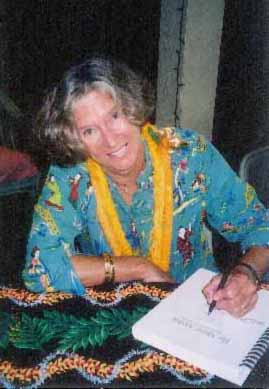 Carol Wilcox busy at the book signing event, while musicians presented familiar songs from its pages for those gathered near "Native Books".
"HE MELE ALOHA A Hawaiian Songbook", published late in 2003 belongs in your library. It's a keeper if you love to sing. Compiled by Carol Wilcox and the collaborative efforts of Vicky Hollinger, Kimo Hussey, and Puakea Nogelmeier, the 267 alphabetically listed Hawaiian songs start with 'A `Oia! and end withYellow Ginger Lei. "This collection is a gift of love created over time by the people of Hawai`i.", Carol Wilcox says.
Each large type full page of "sheet" music has all a song's verses, with English translations written on the right side of the page. At the bottom of each song are brief notes about the song's history, composer and other interesting bits. Best of all, each song has complete `ukulele chording!
"The seed for this songbook was sown in 1997, when (the late) Dixon Stroup, Vicky Hollinger and I compiled a list of Hawaiian song titles," Carol Wilcox writes in the introductory notes about the book. "Over half the songs were composed before 1930". She says that close to 100 of the songs were published between 1930 and 1970 "including almost all of the hapa-haole songs." Thirty of the songs are by contemporary artists. An impressive 190 composers are represented. Carol says "the emphasis is on accurate Hawaiian lyrics and translation."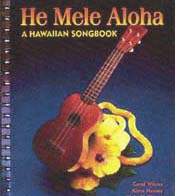 "He Mele Aloha" is spiral bound making it easy for singers and musicians to sing and play directly from flat pages.
You can purchase this workbook-style Hawaiian music treasure at Native Books (Ward Center) and Barnes & Noble (Kahala) or order it from these book stores. Any proceeds realized from book sales will be donated to the Lunallilo Home for Hawaiian Elders, in Hawai`i Kai.
Several CDs from Cord Intn'l/Hana Ola Records come to mind to complete your musical enjoyment: (1) "Legends of the ''Ukulele"; 22 arrangements by Hawaiian Masters, among them Herb Ohta, Eddie Bush, Jessie Kalima and many more, and (2) "John Kamea`aloha Almeida", where you'll hear the tunes for many of the songbook's music sheets, among them 'A `Oia , Green Rose Hula, Noho Paipai, Holoholo Ka`a, Ku`u Ipo Pua Rose. Try Tower Records, Harry's Music in Kaimuki, or Michael Cord's website at: www.cordinternational.com

Hawaiian Music Hall of Fame
P.O. Box 4717, Honolulu, HI 96812-4717
Phone: (808) 372-8921
Fax: (808) 596-8680