New "Territorial Airwaves" CD Smokes!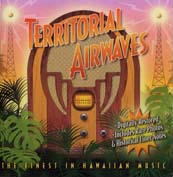 "Territorial Airwaves" CD
Music reviewer, John Berger, says it best in a recent "Island Mele" column, so we'll start with excerpts from his assessment of "Territorial Airwaves", the new CD Harry B. Soria, Jr. has produced with Hall of Fame member Michael Cord's "Hana Ola Records".
"This perfect anthology is the 20th that Harry has produced (for Hana Ola) and certainly the closest to his heart. It commemorates the 25th anniversary of his radio show and also marks his debut as a recording artist. From the opening montage of vintage radio clips to the final song -- Alfred Apaka singing "Aloha `Oe" -- Soria has assembled a marvelous cross-section of classic Hawaiian and hapa-haole music."
"Territorial Airwaves" is described in the Hana Ola Records flyer as "22 Tracks that bring the Golden Era of Hawaiian music to life". You'll hear the original recordings from Harry's collection of such memorable artists as Lena Mechado, Alvin Isaacs, Randy Oness, George Archer, Pua Alemeida. Linda Dela Cruz, Melveen Leed, Myrtle K. Hilo, the Surfers, Alfred Apaka and others. Each of these tracks has been transferred from original sources using the state of the art restoration and digital remastering equipment for which Cord's Hana Ola records is now well-known in the music world.
For those of us who were around while it was happening , this musical treat is one you settle down and listen to with eyes closed and memories of Hawai`i's golden years past when Hawai`i began to regenerate its signature music and dance, after WWII.
The rest of us, born since 1944, when pre-statehood Hawai`i was an exciting and re-invigorated entertainment environment , will journey over 30 years back in time to tune in on the territorial days of Hawaiian radio broadcasting. As the CD description states "for three generations, the Soria's, `The First Family of Hawaiian Radio', have been a part of those territorial island airwaves. There has been a Soria in island radio for most of its history beginning back in 1922 with Hawai`i's first commercial radio station."
Grandfather Soria, "Harry G" is remembered as "Dean of Hawaiian Radio" for his 27 year involvement with KGU radio, where he started his radio career in 1935. In 1936, Dad "Harry B" became Hawai`i's first radio disc jockey with his own radio program under his name. He is recalled as the "Voice of Hawai`i". Now "Harry B. Jr." carries on this "tribute to the music, musicians, and radio pioneers of the Territory" every Sunday on 105 KINE-FM.
In a tribute to "our" generation's "Harry B, Jr.", he expands his celebration of Hawaiian music classics to encompass all decades, carrying on the promotion and perpetuation of traditional Hawaiian music, which is also the mission of Hawaiian Music Hall of Fame.
The new CD, culled from Harry B's own extensive "Territorial Airwaves" archives truly "smokes" folks. We hope it's only the first of a series which Harry and Michael Cord will produce. Harry's history filled liner notes booklet for this recording are worth owning all by themselves. Look for this CD Hawaiian music treasure locally at "Harry's Music" in Kaimuki, or nationally at Tower Records and other outlets.

Hawaiian Music Hall of Fame
P.O. Box 4717, Honolulu, HI 96812-4717
Phone: (808) 372-8921
Fax: (808) 596-8680