2004 Hall of Fame Honorees Chosen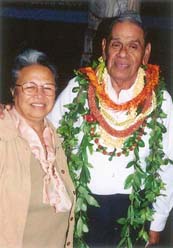 Kahauanu Lake, pictured with Kumu Hula, Alisha Smith
Kawaiaha`o Church and Kahauanu Lake have been chosen for induction into the Hall of Fame in 2004 by the Advisory Selection Board. The Induction Ceremony and program will take place Sunday, February 29, 3 p.m. in the Kawaiaha`o Church Santuary. Admission is free. Very special musical presentations TBA in the Winter 2004 "Ho`oha`i."
It was at Kawaiaha`o church services where Hawaiians were influenced to sing in harmony; Kahauanu Lake was selected because of his lifetime of keeping the music of Na Lani Eha and other early composers alive through performance and teaching.
The announcement about Mr. "K"s honor came from Nina Keali`iwahamana of the Advisory Selection Board who said the Board members gave him "no vote and no choice" but to accept!
Hawaiian Music Hall of Fame
P.O. Box 4717, Honolulu, HI 96812-4717
Phone: (808) 372-8921
Fax: (808) 596-8680