Patron of Hawaiian Music Culture
Lili`uokalani
(Lydia Kamaka'eha Paki, 1838-1917)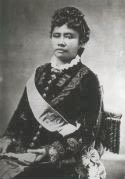 Lili`u, as she was known to friends and family, began her formal musical training when she entered the missionary-sponsored Chief's Children's School at age 4. A serious and talented student, Lili`u was able to sight read music at a very early age, according to her autobiography. She was often asked by her teacher to introduce a new song to the class; Lili`u would then sing it by following the notes on the score until the class learned it by ear.
By age 15, Lili`u was already an accomplished musician and composer who could write music and is reported to be the only native Hawaiian composer who could. The earliest of her hundreds of compositions may be "Nani Na Pua" (Flowers of Ko`olau), bearing the signature "L.K. Paki"; her best-known song "Aloha 'Oe" was the first Hawaiian "hit" song outside of the Islands. Lili`uokalani was given to writing complex harmonies and brought the influence of western music to her songs, evident in their melodic line and lyrical quality. She made every effort to have her music published so that it could be available to all. Lili`uokalani was a frequent patron of musical and dramatic events, and competed in song contests with her brothers and sister.
During her two brief years as Hawai`i's last ruling monarch, Queen Lili`uokalani filled her world with musical activity. Many concerts were given at Iolani Palace featuring foreign artists as well as local musicians. As she had been since childhood, she was an active singer as well as director of several song groups.
Lili`uokalani's legacy of some of Hawai`i's most beautiful and memorable songs ever written memorializes her as a Queen who inspired great affection among the Hawaiian people for her gentleness, her graciousness, and for her concern for the welfare of her people.
Hawaiian Music Hall of Fame
P.O. Box 4717, Honolulu, HI 96812-4717
Phone: (808) 372-8921
Fax: (808) 596-8680