Patron of Hawaiian Music Culture
Miriam Likelike
(1851-1887)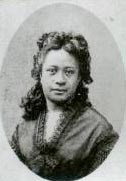 Unlike her brothers and sister, Princess Likelike was raised in Hilo, Hawai`i. It was after her return to Honolulu as a teenager, that her musical endeavors began in earnest, encouraged by Kalakaua, Lili`uokalani, Leleiohoku, and later by her husband Archibald S. Cleghorn, whom she married in 1870. With her sister, she led one of the three royal music clubs that held regular friendly competitions to outdo each other in song and poetry.
"`Ainahau", the most famous of Likelike's compositions, was written about the Cleghorn residence in Waikiki, the gathering place for Sunday afternoon musical get-togethers. She wrote most of her compositions there, and supported the musical education of her daughter, Princess Ka`iulani.
Like her sister, Princess Likelike sponsored many concerts and musical pageants in and around Honolulu, and played an important role in the development and perpetuation of Hawaiian music by the encouragement and patronage she gave to young musicians and composers.
Hawaiian Music Hall of Fame
P.O. Box 4717, Honolulu, HI 96812-4717
Phone: (808) 372-8921
Fax: (808) 596-8680