2003 Hall of Fame Honoree
Kamehameha Schools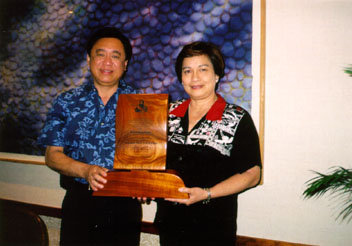 President Joe Paikai presents 2003 Hall of Fame commemorative koa tropy to Kamehameha Schools representative Rowena Blaisdell.
On February 12, 2003, at a special luncheon, members of the Hawaiian Music Foundation Board of Directors and the Hawaiian Music Hall of Fame Advisory Selection Board presented Kamehameha Schools with an engraved koa scroll honoring KS with its century plus contributions to the perpetuation, preservation and promotion of traditional Hawaiian Music.
In the absence of Dr. Michael Chun, Kamehameha President who was ill, the trophy was accepted by Rowena Blaisdell, KS Director, Program Services Division.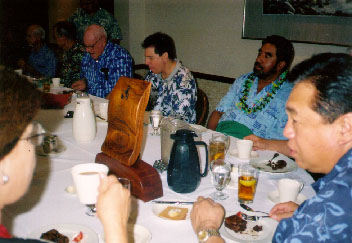 Directors and Advisors (7 are KS graduates) talk story over lunch. (right to left) Joe Paikai, Aaron Mahi, Harry Soria, and Miki Bowers.
Along with the picture of King Kalakaua which is our logo, the following inscription is engraved on the scroll: "In the spirit of Na Lani `Eha/ King David Kalakaua., Leleiohoku, (HRH),/HRH Likelike, and Lili`uokalani, Queen/It is decreed on this/Twelfth day of February 2003/that/Kamehameha Schools/shall be accorded the High Honor and Public Acclaim of /Induction into the Hawaiian Music Hall of Fame/for/Outstanding Contributions to the/Preservation and Perpetuation of/Hawai`i's Musical Culture/E ho`omau I na mea nani a na kupuna/Perpetuate all the beautiful things of the elders/Mary Kawena Puku`i"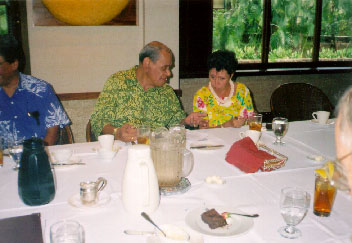 Advisory Committee members Kahauanu Lake and Nina Keali`iwahamana.
The Advisory Selection Board's criteria for choosing Hall of Fame inductees is, and will in future years continue to be: 1. Continuing popularity of musical contributions; 2. Impact on the development and recognition of Hawaiian music; 3. Global influence on music composition and performance; 4. Years of service in promoting and perpetuating Hawai`i's musical culture; 5.Origination of a style or form of Hawaiian music." The Advisors also have the option of adding additional criteria, if a need for it becomes apparent.
As Advisory Board Chair, Kahauanu Lake has said "The Hall of Fame is not a popularity contest, but rather a lifetime legacy we are recognizing, by the celebrated Hawaiians we honor." (Click here for a biography excerpt of Kamehameha schools' ongoing influence on Hawaiian music)

Hawaiian Music Hall of Fame
P.O. Box 4717, Honolulu, HI 96812-4717
Phone: (808) 372-8921
Fax: (808) 596-8680