2002 Hall of Fame Honoree
Ray Kinney
(1900-1972)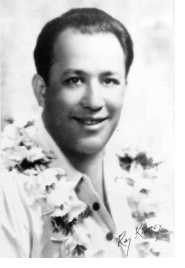 Ray Kinney enjoyed 57 active years as a singer, composer, recording artist, troubadour, radio and stage performer, orchestra leader and emcee. The impact of his popularization of Hawaiian music, particularly on the U.S. mainland, was immeasurable.
Born in Hilo, of Irish-Hawaiian parents, Ray's musical destiny was predictable early. At fifteen he was a skilled `ukulele player and sang a fine tenor. He was sent to high school in Salt Lake City, along with his six older brothers; his Irish father wanted his sons to be as well-read and educated as he was. It wasn't long before the brothers formed a band and toured the Rocky Mountain States.
In 1920, on the death of his Hawaiian mother, Ray returned to the Islands and to his deeply rooted love for his Hawaiian heritage. Ray Kinney's reputation as a singer gained public attention when Charles E. King selected him as part of the cast of King's opera "Prince of Hawai`i" in 1925. He was chosen to play the lead when the opera toured California in 1926. The path to stardom began.
In 1928 Ray was chosen by band leader Johnny Noble as one of three entertainers to promote Hawai`i as a visitor destination via an hour-long national radio show originating at station KPO in San Francisico. In the same year, Brunswick Record Company contracted Noble, with Ray Kinney as one of the singers, to record 110 singles. All are collectors' items today.
In 1934 singer Kinney joined Harry Owens for his orchestra's opening at the Royal Hawaiian Hotel. Owens had learned of Ray's talents and had no trouble locating Ray at a Taro factory day job because Ray sang all day while he was working. Owens hired him on the spot.
Ray appeared on the first broadcast of Webley Edwards' "Hawai`i Calls" radio show in 1935, and continued to perform there for many years. In 1936, he was singled out by Decca Records as vocalist with Johnny Noble, to provide a series of Hawaiian records. It sold so well that the contractual relationship lasted for four years resulting in "phenomenal" sales for the record company.
National recognition for Ray Kinney began in 1928 when he went on tour, first to New York, then, for eleven months at the Palace Hotel in San Francisco. His reputation as a singer - a "high tenor" with a vocal register that ranged from bass to falsetto with ease - skyrocketed with his four year record of continuous performance in the Hawaiian Room of New York's Hotel Lexington, from 1938 to 1942.
The "Hawaiian boy with an Irish name" scored higher than Rudy Vallee and Guy Lombardo in a popularity poll of American singers taken in New York in 1938. Because of his early training in Hawaiian, he knew the language well and was one of the few Hawaiian singers on the U.S. mainland who took great pains to articulate each sound of the Hawaiian text. During this same period, Ray and his "Aloha Maids" also performed in the Olsen and Johnson Broadway revue "Hellzapoppin'". It was the first time a Hawaiian entertainer had been in a major Broadway production.
Ray Kinney returned briefly to Hawai`i in 1940, discovered Alfred Apaka, and hired him as his vocalist at New York's Lexington Hotel "Hawai`i Room". During WWII, he toured 157 military bases and clubs, and was a favorite of audience members from Hawai`i's 442nd . Unwavering in his support of new Hawaiian talent, leader Kinney took Eddie Kamae with him on tour in 1949, adding him to his Royal Hawaiian Hotel orchestra in 1959.
At the age of 65 when he signed his last contract with RCA, Ray Kinney called it "somewhat of a miracle" that his recording career stretched over nearly forty years, unmatched at the time by any other Hawaiian singer. By his own count, he had made over 598 record sides.
In addition, he had composed many songs, and had a flair for writing English lyrics to old Hawaiian tunes. His trademark song, "Across the Sea", written when he was a young man, was his very first composition. Other well known and still popular songs he wrote are "Not Pau", "Hawaiian Hospitality", "Island Serenade", Kalapaki Bay", "Ululani", and "Leimana."
Ray Kinney was charismatic, and a born musician, dedicated to presenting the music of his Hawai`i. He sang in Hawai`i's best hotels until he died early in 1972, still in possession of the beautiful tenor voice and unique falsetto styling that imprinted Hawaiian music in the United States for all time.
Sources: "Hawaiian Music and Musicians", the Kinney family, and Harry B. Soria, Jr., Hall of Fame Advisory Board archivist

Hawaiian Music Hall of Fame
P.O. Box 4717, Honolulu, HI 96812-4717
Phone: (808) 372-8921
Fax: (808) 596-8680