1995 Hall of Fame Honoree
Sol K. Bright, Sr.
(1909-1992)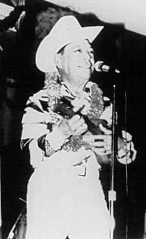 Sol K. Bright Sr. is probably best known for his comic paniolo (cowboy) song "Hawaiian Cowboy", and the ever-popular compositions "Sophisticated Hula" and "Polynesian Love Song" among the many he wrote. Bright's greatest contribution to the promotion and perpetuation of Hawaiian music over 50 active years as an international entertainer/band leader was as a producer and director of Hawaiian shows.
In the late 1940s and '50s, Sol Bright had five Hawaiian shows going at one time, in major night clubs on the West Coast. In the 1960's he was entertaining in every major showplace in Hawai`i, as well as Japan, and his radio, television and live show tours of Hawaiian entertainment were carried around the world. His many recordings produced on the Decca, Brunswick, Victor and Columbia labels are, today, considered collector's items.
It was Bright's contributions to Hawaiian civic and social clubs, and other organizations dedicated to the preservation of Hawaiian music that expressed his abiding love and concern for his native Hawai`i. Bright's musical sister Hannah and brother Andy were also well-known entertainers, and the Bright family name carries on today.
Hawaiian Music Hall of Fame
P.O. Box 4717, Honolulu, HI 96812-4717
Phone: (808) 372-8921
Fax: (808) 596-8680