1995 Hall of Fame Honoree
Henri Berger
(1844-1929)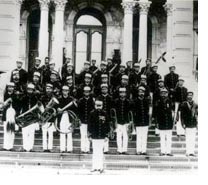 Composer, arranger and bandmaster of the Royal Hawaiian Band (originally called "The King's Band") Henry Berger was born in Prussia and died in Honolulu. First sent to Hawai`i in 1872, on loan from the German army to conduct the King's band, Berger assumed full leadership in 1877 and became a naturalized Hawaiian subject in 1879. He was already a first-rate musician in the Prussian army, and played across Europe in the orchestras of Johann Strauss, Jr.
Soon after his Hawai`i appointment, he became a close friend of Lili`uokalani even before she succeeded King David Kalakaua to the throne, and arranged many of her compositions for the band. From 1893 to 1903, Berger was associated with Kamehameha Schools, where he enlarged its music department. He was the original conductor of a group which became the Honolulu Symphony.
Early in his tenure, Conductor Berger discovered that no Hawaiian music other than hymns was in print. He took on the task of arranging and printing it, and of seeking out and recording Hawaiian chants for posterity. Some of the best known of Henry Berger's compositions are "The Hula March", "Hilo March", "Kohala March" and "Sweet Lei Lehua". It is Hawai`i's national anthem, "Hawai`i Pono`i" now its State song whose tune is known to every Hawaiian. Berger composed the music in 1874 for King Kalakaua's hymn honoring Kamehameha I.
During his 43 years as bandmaster, Henry Berger conducted more than 32,000 concerts, and is responsible for starting the tradition of the RHB playing at the arrival and departure of ships at Honolulu's piers 10 and 11 by Aloha Tower -- the celebrated "steamer days". The Royal Hawaiian Band is not only the oldest and most important band in Hawai`i, but is the oldest municipal band in the United States.
Hawaiian Music Hall of Fame
P.O. Box 4717, Honolulu, HI 96812-4717
Phone: (808) 372-8921
Fax: (808) 596-8680