1995 Hall of Fame Honoree
Alfred Apaka
(1919-1960)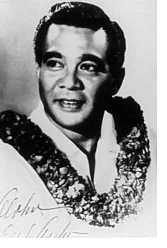 Alfred Apaka possessed one of the most remarkable singing voices ever to come out of Hawai`i. His natural, untrained voice could range from B flat to E in pianissimo, an agility that allowed him to sing both baritone and tenor parts of the same song. By temperment and talent, Apaka was a balladeer whose renditions of "Beyond the Reef" and "Sweet Leilani" are known around the world.
A handsome athlete whose masculinity carried over into his singing style, he became a leading entertainer with a commanding stage presence, and the ability to control both his material and his audience. From 1938 to 1951, Alfred Apaka's popularity as a singer grew through performances with leading bands in both Hawai`i and the mainland U.S.A. His own group played the West Coast circuit from 1946-1949, and then settled in at Waikiki's Moana Hotel until 1951. In 1952, he was "discovered" by Bob Hope while playing at Don the Beachcomber's, and he appeared in both Hope's and Bing Crosby's radio shows.
Alfred Apaka's record albums are collector's items, and his recordings are still in demand today. His untimely collapse and death at age 41, during routine exercise at a Honolulu gym, sent shock waves through the world of musicians and Apaka fans. He was at the height of his career, and about to begin a sponsored TV show of his own. Alfred Apaka, mourned by thousands, was buried with a microphone in his hands. He is still memorialized today -- a musical great of legendary dimension.
Hawaiian Music Hall of Fame
P.O. Box 4717, Honolulu, HI 96812-4717
Phone: (808) 372-8921
Fax: (808) 596-8680