Fall 2002 Events in Pictures
[From the Fall 2002 issue of Ho`oha`i, the Hawaiian Music Hall of Fame quarterly publication]
The 2002 HMHF Kawaiaha`o Concert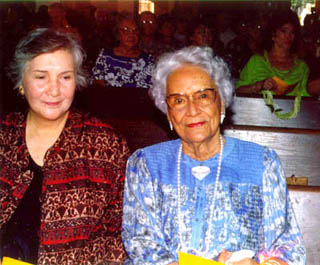 At the September 2002 Hall of Fame Kawaiaha`o concert, Marquise Kapiolani K. Marignoli (left), and Director Gladys A. Brandt await the performance of the Kahauanu Lake Singers.
E Mele Kakou Kids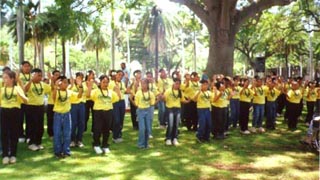 E Mele Kakou kids sing at the `Iolani Palace with the Royal Hawaiian Band.
Annual Meeting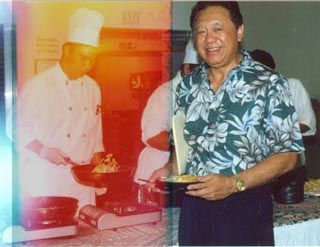 Prexy Joe Paikai enjoys the ono-licious food prepared for our Annual Meeting by Windward Community College culinary students and chef.

Hawaiian Music Foundation
P.O. Box 4717, Honolulu, HI 96812-4717
Phone/Fax: (808) 372-8921