An evening concert under the stars and guided tours was the setting at 'Ionlani Palace for the commemoration of the birth of Queen Kapi'olani. Ku'uipo Kumukahi and the Hawaiian Music Hall of Fame Serenaders and other performing groups paid musical tribute to the occasion on the steps of the Palace to an audience also participating in the 'time-piece' tours being conducted by the 'Friends of 'Iolani Palace'. See more about Queen Kapi'olani.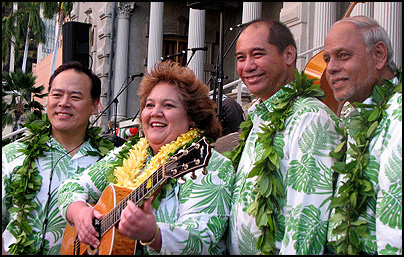 Isaac Akuna - steel guitar, Ipo - guitar, James Stone - bass, Joey Winchester - ukulele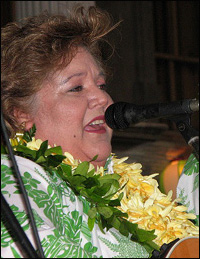 Ku'uipo Kumukahi and the Hawaiian Hall of Fame Serenaders offer a tribute in song and dance to the memory of Queen Kapi'olani at the annual commeration of Her birth on the entrance steps of 'Iolani Palace.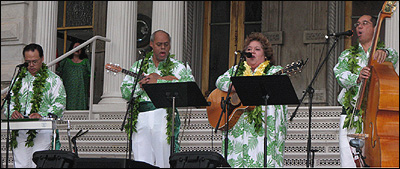 The Palace was decorated, as it was during the Monarchy era, with colorful lanterns forming a festive backdrop to the evening�s entertainment (more under "Palace Illuminations" heading). And,from the front steps of the Palace into the evening, music filled the cool clear night, laced with a gentle breeze.

����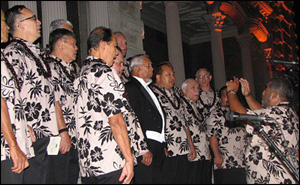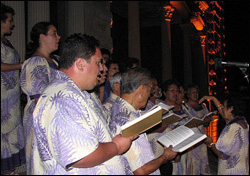 The Kamehameha Alumni Choir The Kaumakapili Church Choir