1995 Hall of Fame Honoree
Charles E. King
(1874-1950)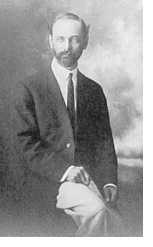 By concensus, "Dean of Hawaiian Music", Charles E. King was one of the Islands' foremost composers. He exerted tremendous influence on the development of Hawai`i's music. Hawai`i born, King was noted as a composer, publisher and band leader. His three song books, "King's Book of Hawaiian Melodies", "King's Songs of Hawai`i", and "King's Songs of Honolulu" (now out of print) were - and are - treasured around the world by those wishing to learn to sing and play Hawaiian tunes.
King, who was one-quarter Hawaiian, was raised among the ali`i; Queen Emma was his godmother, and Queen Lili`iuokalani was his music teacher. He was a member of the first graduating class of The Kamehameha School for Boys. Fluent in the Hawaiian language, Charles King's knowledge and appreciation of Hawaiian culture and history was reflected in his compositions. Although he was an innovator who added sophistication and more complex harmonic structure to Hawaiian music, King was a staunch traditionalist who insisted that Hawaiian songs should have Hawaiian lyrics, the subject should be about Hawai`i, and the melodic quality nahenahe (sweet) and not "jazzed up."
King's first hit song "Na Lei O Hawai`i" was published in 1915, when he was 42. From then until his death, he became one of Hawai`i's most productive composers.
Hawaiian Music Hall of Fame
P.O. Box 4717, Honolulu, HI 96812-4717
Phone: (808) 372-8921
Fax: (808) 596-8680